Tabibi 24/7

Health Blogs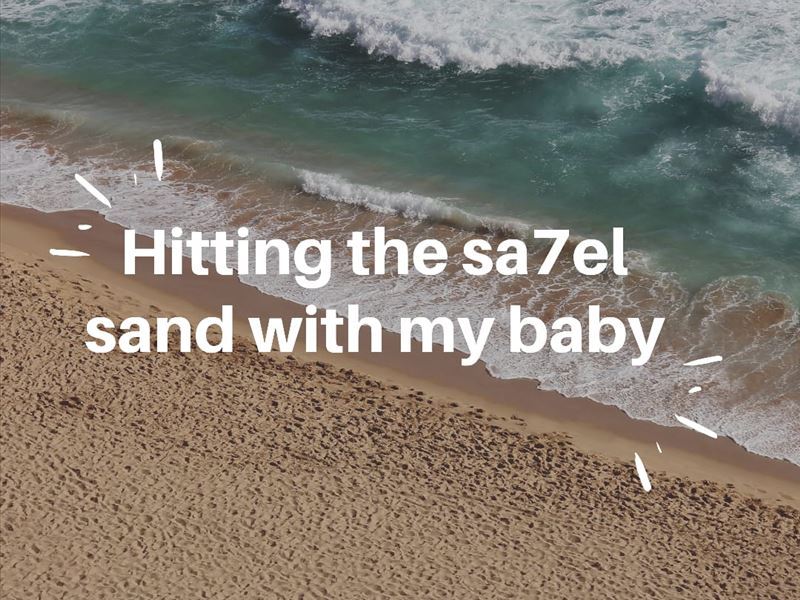 Hitting the sa7el sand with My baby.
Hitting the north coast sunny beaches with my 7-month baby for the first time. An Intimidating idea right ?!. The funniest moment popped up when I heard his scream once his tiny feet touched on the sand!.
This loud noise made me realize that It is HIS FIRST TIME EVER TO HIT THE SAND!. And from where I stand now, I am inviting all new mums to get your hands in the sand with Your babies and create those joyful moments.
Also, do not forget YOUR TOP 5 BEACH ESSENTIALS for a healthy yet fun beach trip with your newborn.
1)Applying sunscreen is not that simple act; IT'S THE ART OF SUN PROTECTION. Make sure you are adequality protected from sun dangerous rays.
• If you have last summer sunscreen be aware of the Expiration date
• Go for sun protection factor (SPF) 30 or higher.
•
Broad-spectrum
protection to make sure you get protection against UV-A and UV-B rays.
• Sunscreen comes in many forms, including ointments, creams, gels, lotions, wax sticks, and sprays. Choose what you prefer. Use water-based sunscreen, especially if your face is oily.
• Apply it ~ 15 minutes before being in the sun exposure just to allow your skin to fully absorb the sunscreen.
• Apply enough sunscreen; Use a handful to cover your entire body
• Don't forget your ears & feet!. Sunscreen should cover all skin parts exposed to the sun.
• Be careful when applying sunscreen around your eyes. ( If you get sunscreen in your eye, don't worry, just flush your eye with water instantly . )
• Sunscreen wears off. Put it on again if you stay out in the sun for more than 2 hours, and after you swim or do things that make you sweat.
• Don't apply sunscreen for if your baby is less than 6 months, make sure his skin is covered, wearing a hat and sitting in shades.
2) DIAPERING: Changing Bag, plastic bags, diapers, and diaper rash cream
• Diaper change is much less fun out of home, needlessly thinking, on the beach. Take your baby bag with you. Include a portable changing pad, even if the bathrooms in sa7el are clean, your baby skin still needs protection. Don't forget enough plastic bags to dispose of dirty diapers.
3)Towels for the little one:
•
No matter his age now, your baby deserves his clean
towel
.
4)Snack and drinks:
•
Babies less than 6 months who are only exclusively breastfed don't need water. For older infants, make sure that you have their bottles of
water
ready and handy also make sure they get enough nutrients needed from including a variety of
meals
.
5) Hand soap and wipes:
•
Just to make sure the changing pad is
clean
and our hands as well.
TABIBI Doctors are always here for you and your family even in Sa7el.
KNOW MORE
Disclaimed : TABIBI 24/7 social media channels contain general medical information that should not be regarded or treated as medical advice. Because we believe that diagnosis/assessment and counseling are essential for an accurate and a patient centric healthcare service ; you must not rely on the information on our website /blog / other social media channels as an alternative to medical advice from professional healthcare providers. You should never delay seeking medical advice, disregard medical advice or discontinue medical treatment because of information on TABIBI 24/7 social media channels.
POST A COMMENTS
Testimonials
What patients say about us
This is the first time I have tried Tabibi 247 and I just wanted to express my gratitude to such great service and professional team members. I would inform you that Dr.Sayed was very helpful and informative. He took his time to explain everything which I really appreciate. I am just proud that such an establishment is in Egypt.
One of the best medical experiences ever. Flawless reservation, cheerful staff, professional doctors and a colorful well equipped center. Amazed to have such level of service and care :) Thank you Tabibi 24/7
Today my son had an accident resulting in a large deep cut on the back of his head. Dr Radwa came round and was absolutely amazing from start to finish. She phoned the local hospital to arrange the stitches, took us there with her driver, arranged everything and stayed with us whilst my semi hysterical 2.5 year old received a numbing injection and 3 stitches. She absolutely went above and beyond. My son is still asking about the doctor!
Before Tabibi I used to go to work, leaving my baby at home sick, feeling worried and tense. Now i am more relaxed and happy to be your customer. Being able to reach your doctor at anytime is a blessing. Thank your Tabibi that is worth a million
Tabibi is a rare medical family, I especially love working as a team with some of the brightest doctors. I'm lucky to work with such a committed and caring group of individuals, and share all our combined knowledge to help ensure we are giving the best medical care to our patients.
What I love is that all your doctors follow one school, when they prescribe and diagnose. I am very happy and grateful and proud of having Tabibi. Bravo!