Tabibi 24/7

Health Blogs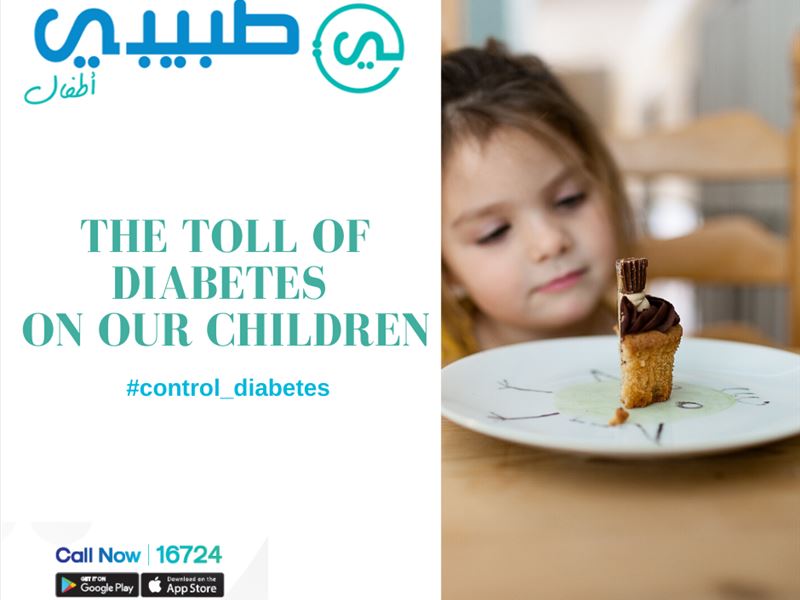 Toll of Diabetes on children.
As a parent, dealing with the diagnosis of our child with diabetes is heart-aching. We all thrive for our children to live healthy , free of pain, and worry. The moment we encounter the truth about our Child's diagnosis, we focus on medications then food. We never consider the emotional dilemma that can also greatly impact our diabetic children.
Living with diabetes 24 /7 challenges anyone, this is a lot to grasp as a child. It's critical that you pay attention to your child's emotional needs. Read the below 6 emotional reality checks about diabetic children and teen.
1. Mom,Why I am different ?
Diabetics kids needs regular blood tests , medications and clinic visits they need special attention in the schools and day care. They are at higher risk of feeling isolated and embarssed.
2. Mom,Is it just a bad dream ?
Denial. Because children want to blend-in with others they may sometimes pretend they don't have diabetes. Take care !,it's alraming when they have to check time for medications or control some food cravings.
3. Mom,What did I do wrong to deserve this ?
Some children may feel like their illness is their fault.They can also feel they are a burden on others. This puts them at increased risk of resenting their situation, of getting sad feelings and depression.
In younger school-age children, studies noted an increase of depressive symptoms after the first year of diagnosis. Over time, anxiety seem to decrease in boys but increase in girls
Take care, Anxeity and depression can affect the Diabetes control . Higher A1C levels in adolescents have been associated with depressive symptoms,
4. Mom,No,I am not talking medication.
· Parents will be responsible for overseaing their diabetic child health. That's more control. Some children might face that with anger
· For Adolescents , the family nagging and arguing increases the risk of repellence
5. Mom,I am scared.
· Diabeties control requires regular tests. Fear of needles is a norm.
· Undertanding the real reasons behind diabetes and what is it is somthimes hard for younger ones.
Mom, I can't focus .

Young people with diabetes are at increased risk for information processing weaknesses and learning problems, especially if there is a background of early diabetes onset, severe hypoglycemia, or chronic hyperglycemia
It is important for us to recognize the feelings our kids with diabetes might have and learn ways to help them. It's very important to seek professional regular check-ups on the psychological effects of children and adolescents with chronic illness.
Know How TABIBI Team including diabetologist and phycologists can help.
Refrences
· Asma Deeb,et.al "Common Issues Seen in Paediatric Diabetes Clinics, Psychological Formulations, and Related Approaches to Management," Journal of Diabetes Research, vol. 2018, Article ID 1684175, 8 pages, 2018. https://doi.org/10.1155/2018/1684175.
· Pediatric Diabetes 2014: ISPAD Clinical Practice Consensus Guidelines 2014 Compendium : Psychological care of children and adolescents with type 1 diabetes: 15(Suppl. 20): 232–244 doi: 10.1111/pedi.12191
· https://kidshealth.org/en/parents/type1.html
· https://kidshealth.org/en/parents/feelings-diabetes.html
· J Fam Health Care. 2012 Dec;22(6):16-7, 19-22.
POST A COMMENTS
Testimonials
What patients say about us
This is the first time I have tried Tabibi 247 and I just wanted to express my gratitude to such great service and professional team members. I would inform you that Dr.Sayed was very helpful and informative. He took his time to explain everything which I really appreciate. I am just proud that such an establishment is in Egypt.
One of the best medical experiences ever. Flawless reservation, cheerful staff, professional doctors and a colorful well equipped center. Amazed to have such level of service and care :) Thank you Tabibi 24/7
Today my son had an accident resulting in a large deep cut on the back of his head. Dr Radwa came round and was absolutely amazing from start to finish. She phoned the local hospital to arrange the stitches, took us there with her driver, arranged everything and stayed with us whilst my semi hysterical 2.5 year old received a numbing injection and 3 stitches. She absolutely went above and beyond. My son is still asking about the doctor!
Before Tabibi I used to go to work, leaving my baby at home sick, feeling worried and tense. Now i am more relaxed and happy to be your customer. Being able to reach your doctor at anytime is a blessing. Thank your Tabibi that is worth a million
Tabibi is a rare medical family, I especially love working as a team with some of the brightest doctors. I'm lucky to work with such a committed and caring group of individuals, and share all our combined knowledge to help ensure we are giving the best medical care to our patients.
What I love is that all your doctors follow one school, when they prescribe and diagnose. I am very happy and grateful and proud of having Tabibi. Bravo!